Animal lovers have given lashes to Love Island celebrity, Ollie Williams, calling him "Bloood Thirsty" after he posted photos of him posing next to dead animals.
The millionaire, Ollie Williams was branded as "Blood Thirsty" by Love Island fans after is hunting past was revealed.
The fans are calling for Williams, who is set to enter the villa in South Africa tonight, to be axed from the ITV2 show saying he has no remorse.
Ollie Williams has, thought deleted the photos, sparked fury on social media.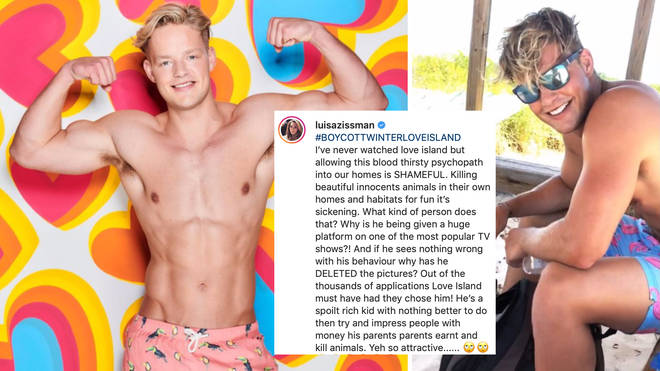 The Sun claimed the Cornish viscount-in-waiting was a big game hunter who allegedly killed animals including warthogs, water buffalo and antelopes during work trips to Africa.
Animal lovers were outraged by the reports and launched a petition via change.org calling for producers to remove the Islander from the 2020 line-up.
Williams have also been described as "Blood Thirsty".
The description of 'Remove Ollie Williams from Winter Love Island for Trophy Hunting!' states:
Ollie Williams who is due to enter Winter Love Island has been exposed as a bloodthirsty big trophy hunter.





He has proudly posed with an array of dead endangered animals including warthog and water buffalos among other animals he killed in Africa in order to promote his hunting business, Cornish Sporting Agency.

The disgusting photos were posted on an Instagram account that was deleted before it was announced that Ollie would be one of the contestants joining the winter series of Love Island in South Africa.

ITV allowing him to be on the show is implying that they are okay with his sick and sadistic hobby.





Ollie Williams should not be allowed to take part or compete in the Love Island series and he should not be allowed on a such a public platform.
Buttressing the statement, Love Island viewers swag into action, taking to social media, sharing their outrage and branding the heir to the multi-million pound Lanhydrock estate as "disgusting".
Few Tweets:
"Honestly if @LoveIsland still airs with Ollie in it, definitely not watching winter or summer series again. How you let someone on air who destroys animals for fun is disgusted, @itv2 should be ashamed!," said one furious Twitter user.
Another wrote: "Disappointed in @ITV allowing Ollie Williams into the love island villa when there are photos of him posing with dead animals he's killed for fun #notgettingmyvote #LoveIsland #LoveIsland2020."
While a third raged: "How @LoveIsland can let that Ollie Williams in the villa for fame when there's pictures of him enjoying hunting trips in South Africa is beyond me, losing millions of animals in Australia at the moment meanwhile promoting someone who purposely kills animals for fun #SortItOut."
|| Guide To Healthy Eating Habits And Well Researched Diet Routines – FOOD THERAPIST
The Instagram account promoting Ollie's business was deleted before it was announced he would be starring in the 2020 series.
However ITV denied reports he "hunted big game for fun" and assured fans he was involved in animal conservation instead.
A spokesperson for ITV said: "It is categorically untrue to suggest Ollie is involved in hunting for sport."
"Ollie is a passionate conservationist and worked with an anti-poaching unit in Mozambique."
"Conservation is crucial to the survival of animals and as part of that work Ollie was involved in the culling of sick animals who were a threat to the health of the herd."
"There is a very big and important difference between trophy hunting and the conversation work Ollie has previously been involved in."
"At no point has Ollie organised or booked anybody to go to Africa to shoot game."
But Luisa Collins (Zissman) believes that a  "blood thirsty psychopath into our homes is SHAMEFUL."
Her words:
#BOYCOTTWINTERLOVEISLAND
I've never watched love island but allowing this blood thirsty psychopath into our homes is SHAMEFUL. Killing beautiful innocents animals in their own homes and habitats for fun it's sickening. What kind of person does that? Why is he being given a huge platform on one of the most popular TV shows?! And if he sees nothing wrong with his behaviour why has he DELETED the pictures? Out of the thousands of applications Love Island must have had they chose him! He's a spoilt rich kid with nothing better to do then try and impress people with money his parents parents earnt and kill animals. Yeh so attractive…… 🙄🙄🙄🙄🤬🤬🤬🤬 Am I wrong? Do you want him on your screens? This has outraged me!!!
In support, Nicola Lewis commented that, "It's absolutely disgusting ! I can not believe there so called researchers didn't find this info ! Or maybe they did know about and this is some kind of sick PR stunt!"
Winter Love Island stars tonight on ITV2 at 9.00pm.