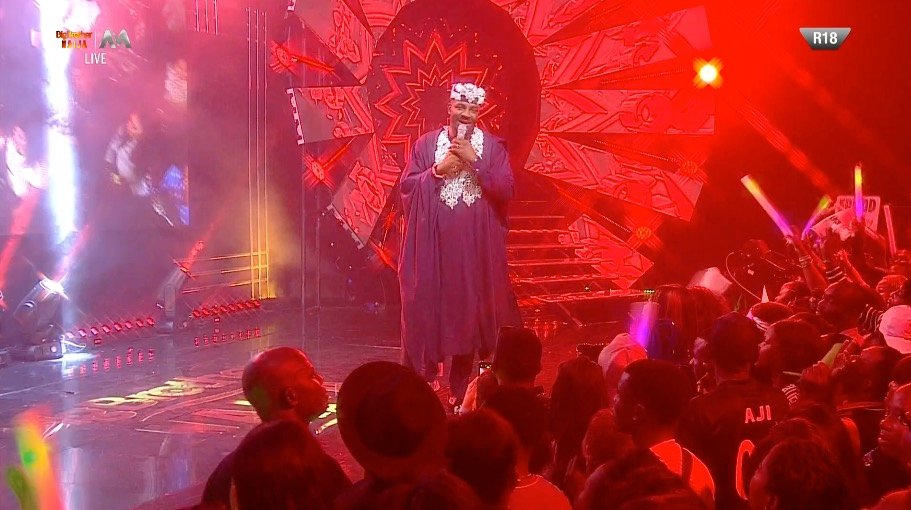 starting with Ebuka and his dramatic Agbada.
BBNaija grand finale updates from Gbetutv
The much-Awaited fmgrand finale of  Big Brother Naija (#BBNaija grand finale  2019) season four reality television show will today, Sunday, come to it end, with plenty lovers of the showing tweeting on Twitter for their fans.
The 6th of October is the grand finale of the Big Brother Naija Pepper Dem! 99, today of course make the TV reality show a 3month period of which the various housemate have maintained staying in one house with different people across the world, and there was not a single day without some drama from fights to tears, tantrums, good times, shocking eviction some dose of romance as well as disqualification.
Gbetutv reports that Seyi, Mike, Mery, Frodd and Omatshola  who are the only housemates left are looking radiant in their attire, with mercy wearing an elegant white gown, and the other housemates in their various elegant looking attires
With five out of 26 housemates making it to Sunday's final, only one will clinch the grand prize of N60m.
Tiwa savage, a know singer  and Pepsi ambassadors,rapper MI Abaga and reggae-dancehall singer Patoranking will perform at the grand finale of the  #BBNaija
Stick with Gbetutv as we bring to you minute by minute accounts leading to the crowning of the grand winner.
07:07 pm: Reggae-dancehall singer Patoranking currently thrilling fans at the live show.
06:15 pm: Tiwa Savage visits housemates ahead of grand finale live show.
The Queen is in the #BBNaija Pepper Dem House. Hey, @TiwaSavage.

Brought to you by @Pepsi_Naija.https://bit.ly/2nJSrTQ 
151 people are talking about this
BBNaija grand finale…. waiting for the carrier of the money bag….
The first housemate to be evicted is of course our long grace saving frodd, followed Omoshola… then by Seyi
the two man standing housemate waiting for the money interestingly have their name starting with "M"
Mercy and Mike of course….
|| Guide To Healthy Eating Habits And Well Researched Diet Routines – FOOD THERAPIST




all eyes glued to the TV…waiting for the winner of the BBN Pepper dem gang.
The light to the Big Brother House is off, which means Mike and Mercy are on their way out… this is the time we have all being waiting for… yes!!
Statistics shows that the overall votes gotten by the BigBrother Pepper dem gang is roughly about 240million since the beginning of the show till this day. Big brother made N8.7billion from the TV reality shows #BBNaijaFinale as it  was stated that
The moment we all waited for, for the past three month of watching and voting all come through for lamogini Mercy!!