Dapo Abiodun celebrates Dele Momodu as he clocks 60 – – The Governor of Ogun State, Dr. Dapo Abiodun have taken to social celebrating Chief Dele Momodu as he clocks 60.
I heartily felicitate with you, Bashorun Dele Momodu, on the auspicious occasion of your Diamond Jubilee Birthday.
This is, no doubt, an important milestone in your very eventful life. From a modest background in Ife, you have conquered the world as a trail-blazing celebrity journalist and a successful editor, as well as a media entrepreneur and public intellectual.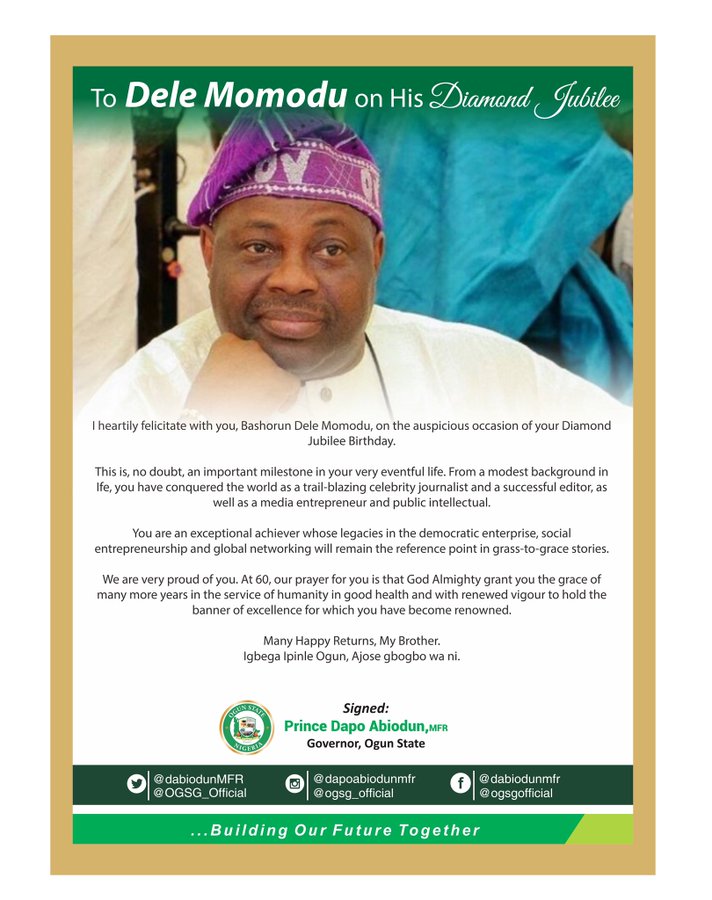 You are an exceptional achiever whose legacies in the democratic enterprise, social entrepreneurship and global networking will remain the reference point in grass-to-grace stories.
We are very proud of you. At 60, our prayer for you is that God Almighty grant you the grace of many more years in the service of humanity in good health and with renewed vigour to hold the banner of excellence for which you have become renowned.
Many Happy Returns, My Brother.
Igbega Ipinle Ogun, Ajose gbogbo wa ni.