Plagiarism: Lyta vs GOT7 – – A come back video by Lyta titled "Hold Me Down" has earned him both local and international lashes on similarities from the video "Just right(딱 좋아)" by GOT7.
South Koreans have accused Lyta of plagiarism and creativity theft. According to them, Lyta copied the creativity and scenes of "just right" by K-pop music group, GOT7 which was released 5 years ago.
They have even started reporting the video to be taken down for alleged plagiarism. They have also started disliking the video on YouTube and as at the time of this report, the video is on the verge to hold record of the "most disliked Nigerian music video" on YouTube.
The video had over 775k views, 9k likes and 120k dislikes. This shows how much South Koreans adore their pop artistes, little wonder they call their celebrities, "idols". K-pop artistes are also known to have the biggest fanbases in the world.
We take it that the production team for "Hold Me Down" video thought they could plagiarize "Just Right" scene by scene and nobody would notice.
In as much as copying another's artistic creativity is damning, giving of credit can also seen as reasonable. Many people before lashing out forgot to find out if Lyta actually gave credit to GOT7. Well he did at the description and most people don't even do that.
This video was inspired by Kpop Korean boy band GOT7 and BTS.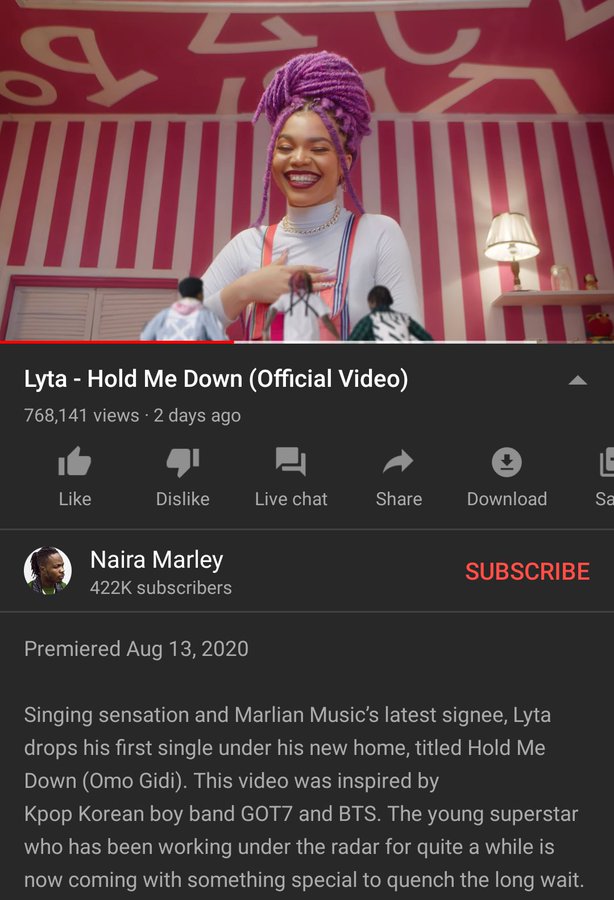 A tweeter user says, "So I give a nod to him for that. It is a little weird but I'm okay with it."
Lyta was recently signed to Marlians after months of settled rift and leaving the YBNL due to unclear deals.
Here are scenes taken from the said video –
The video director seriously needs to be flogged. I doubt Lyta knew about the original GOT7 MV. You guys both Asians and Nigerians, should start blaming the video director and not Lyta. Dude mst have worked hard trying to make this MV a success not knowing it was copied