On Tuesday, 10th March, a lady, Lowena Nkya Racheal was allegedly shot in the mouth by the Ugandan "Police Officers" and the KCCA at the old taxi park (KJJA).
Lowena Nkya Racheal, a student of Nyla Lugazi Mixed Secondary School, was on her way back from school on Tuesday with her mother, Ms. Irene Nakachwa, when they encountered a tussle between the Ugandan Police Force, KCCA enforcement and Traders.
In the process, Lowena Nkya was shot in the mouth, making her loose conscious and landing on the ground.
According to the advocating firm for Lowena's mother, Mulindwa Associates & Co. Advocates, "Efforts to put Lowena on one of the police vehicles for quick medical attention were refused by the officers on duty and instead tear gassed the people carrying her which showed acts of inhumane behavior, but a good Samaritan put them on a boda boda motorcycle and transported them to the Mulago Hospital Casualty Ward."
The Mulindwa Associates & Co. Advocates, on behalf of the victim is demanding from the Inspector General of Police and Executive Director of KCCA, that Lowena Nkya Racheal be taken to a specialised medical facility, where she needs at least "Ugx 50,000,000 (Ugandan Shillings, Fifty Million only) in medical expenses and the mother Ugx 10,000,000 (Ugandan Shillings, Ten Million) accordingly.
The group is also demanding that both parties "pay damages to Lowena and the mother amounting to 1Billion for permanent disability, bullet wounds, trauma she is undergoing through, inconvenience to her studies as an S.6 Candidate and physical and anguish."
See complete text below: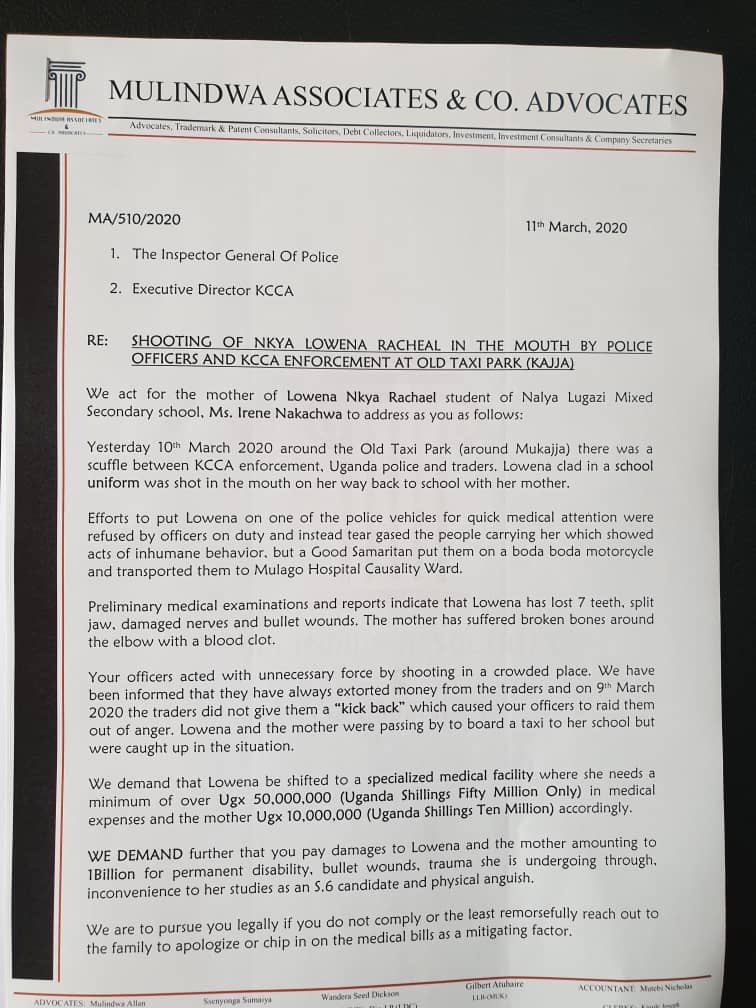 Meanwhile, the Kampala Police have summoned KCCA law enforcement officers to explain circumstances under which Lowena Nkya Racheal was shot during an operation against street vendors in Kampala city on Tuesday, March 10.
Lowena, a student of Lugazi Mixed SSS, her mother and another man, only identified as Jimmy were seriously injured during the shooting around Old Taxi Park, where she was shot in the mouth, as police and KCCA law enforcement officers battled vendors who were resisting eviction.
In a statement issued on Wednesday, 11 March 2020, Mr Patrick Onyango, the Kampala Metropolitan Police Spokesperson, said police were forced to fire teargas and rubber bullets to disperse the violent crowd.
"The mother and daughter were rushed to Mulago National Referral Hospital by our team, where they are getting treatment and now out of danger. We are still awaiting the scan results and full medical report from the Hospital to establish the nature of injures to help determine whether they are due to shootings or crash injuries in attempts to escape from the hostile setting," Mr Onyango said in a statement.
"The CID Commander at KMP is heading the investigations and has documented the scene, obtained relevant witness statements and other evidence of material value. He has also checked on the patient at the Hospital. The enforcement team that participated in yesterday's operation has been summoned to record statements and give an account on what happened during the incident," he added.
Mr Onyango urged all members of the business community to abide with the laws and regulations of KCCA to help guard against such incidents.