Former Super Eagle Coach, Samson Siasia has been banned for life from football and all football related activities for bribery and match fixing, on Friday, 16th August.
Samson Siasia was found guilty and banned by the Independent Ethnic Committee. He violated the FIFA Code of Ethnics.



In its decision, the adjudicatory chamber found that Mr Siasia had breached art 11(Bribery) of the 2009 edition of the FIFA Code of Ethics and banned him for life from all football-related activities(administrative, sports and any other) at both national and international level.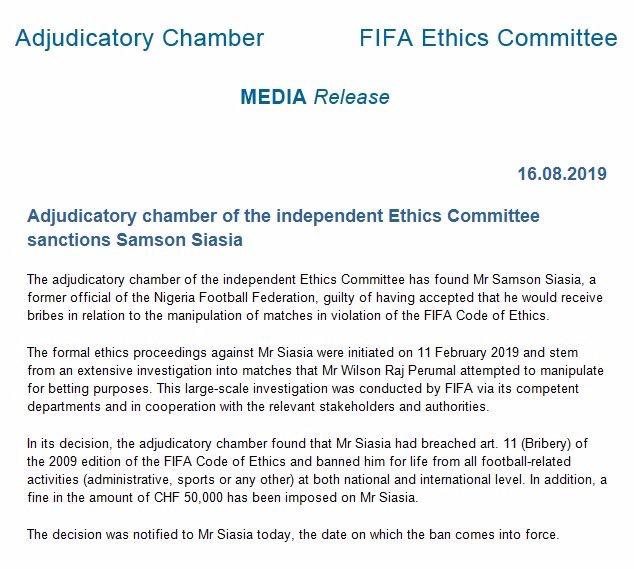 Reactions
Samson Siasia banned for life from football and all football related activities for bribery and match fixing. Very unfortunate and sad. I liked him.

–  Dr. Dipo Awojide
Fifa has banned for super eagles coach,Samson Siasia from all football activities 4 life,after found guilty of accepting to receive bribes to manipulate matches. Once again, good name is better than anything. Don't tarnish your good name because of peanuts that will bite u later.

–  Omo Iya WAEC
Ex- Nigeria international and coach Samson Siasia has been banned for life by ethics committee of FIFA and fined $50k for taking bribes to manipulate games.
.
Just one more fraudulent Nigerian to add to our already destroyed global image… Nothing new

–  Bissaka
This Samson Siasia matter is bad for naija football…handed a life ban by FIFA and fined $50k for "accepting" to take bribes to manipulate games.
😱Accepting😱

–  Uche Jombo