The Governor of Lagos State, Babajide Sanwo-Olu have been excluded from the Global Good Governance Award (3G Awards) for the year 2020.
This is as a result of Tuesday, 20th massacre in the state which have become alleged according to the Governor.
According to the organizers of the 3G Awards, the decision is taken due to the Governors faliure to deliver good governance.
"Our decision is reached based on the fact that you have failed in Delivery of Good Governance Policies as it relates to the "Security of Lives and Properties" of Residents and Citizens exercising their civic right to a Peaceful Protest as contained in the Nigerian Constitution.
They adviced Gov. Babajide Sanwo-Olu to "do a full investigation as regards these killings and justice brought to the effected."
Read below –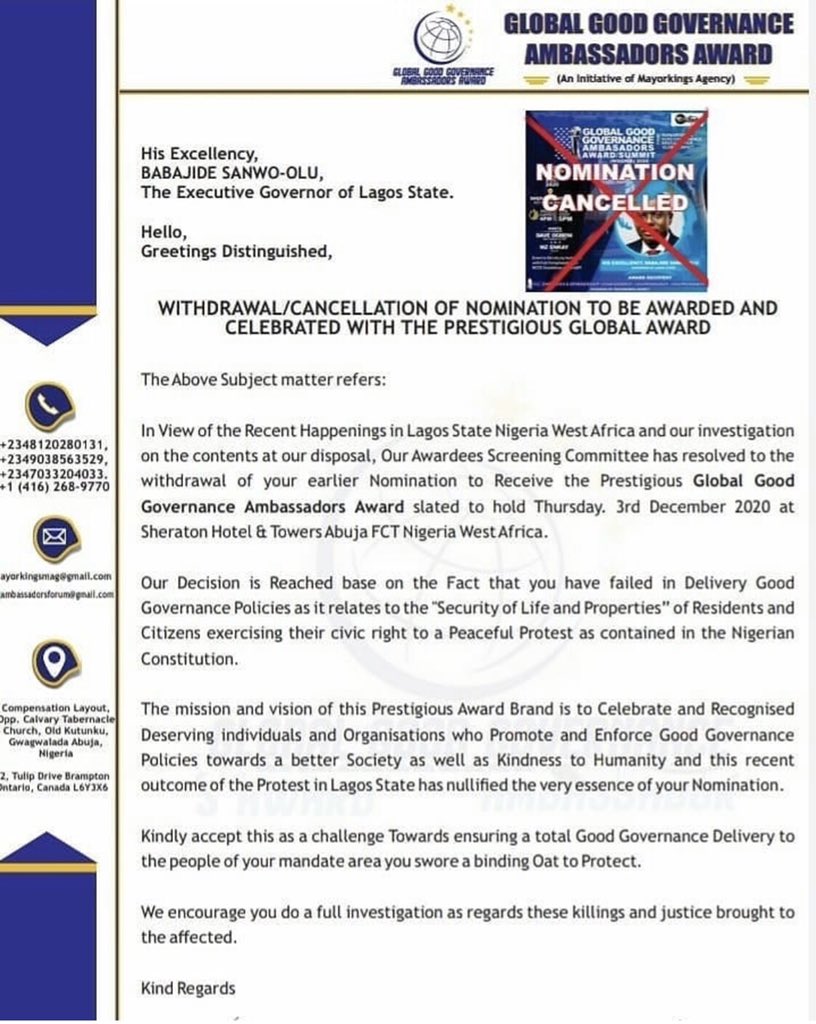 The Global Good Governance Awards or 3G Awards is an initiatives which promotes good governance practices world over. It celebrates individuals, governments, public and private institutions and NGOs that demonstrate making governance and sustainability a strategic priority of their organisations.
The 3G Awards are premier awards programme that highlights excellence in good governance and commitment to social welfare in 3 major streams: Government & Politics, Corporate Sector, and Social Sector & Philanthropy.
The Awards promote good governance and commitment to social welfare by: Recognizing leadership efforts of individuals, governments, corporations and NGOs in practicing good governance principles in their functioning; Recognizing implementation of innovative practices, programmes and projects that promote the cause of good governance, transparency and social responsibility; and Enthusing governments, corporates and NGOs in focusing on good governance and social responsibility practices.
It is headed by Cambridge IFA.