A best graduating student of Vuwani Secondary School in Soweto, South Africa, Thabelo Mudau, has been awarded with a cow for his success.
Mudau was celebrated by all his teachers and staff members of the school.
To show their appreciation for giving them such good neme in the community and district, the young boy was awarded with a cow.
Thabelo Mudau, who also has fancy for Agriculture has his first life stock thanks to his hard work to wards education.
Though many have seen this a mockery but many that can relate understands how massive and awesome this is, especially form a place like Soweto.
A Twiiter users argue that Thabelo should have been awarded with technological equipment, internet connection or proper career guidance rather then gifting him a cow.
This users argues that a cow will put pressure on him when it comes to feeding it and finding a kraal for it to stay.
He believes this move is like reducing students to farmers.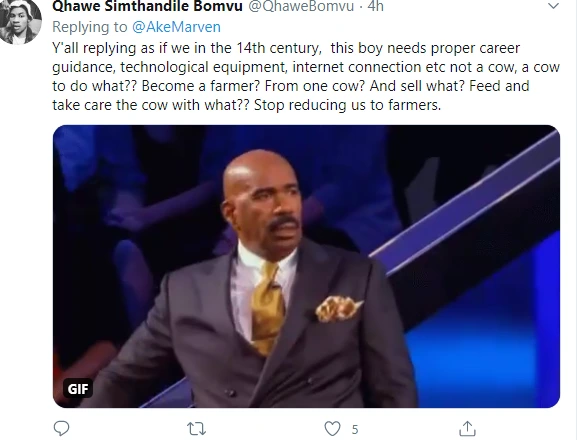 Responding to this, an internet user commented –
Trust me, I'd have that cow any day. All that's left is getting the cow to Limpopo, take good care of it, let it breed, sit back and watch his flock grow. Covid has totally changed the way wealth is accumulated, going back to basics is the way to go.
While another defensively added that, "Thapelo can sell his cow and buy himself anything he wants."
Technology has come to stay, but the question is, can technology really feed the human race. It seems most young lads now believe all their food grows online. If possible create a chip that grows corn and yam in two day. Yes?
In the future, Agriculture and Home Economics may go extinct.