The Uganda's deputy military spokesperson, Lt Col Deo Akiiki, says that the Soldiers at Bobi Wine's home are there to protect him.
Robert Kyagulanyi Ssentamu, better known as Bobi Wine, is a Ugandan politician, singer, actor and businessman. He recently ran against the country's incumbent 1986 President Yoweri Museveni and lost fairly.
After the election, Bobi Wine tweeted with his official Twitter account, "The military has jumped over the fence and has now taken control of our home."
"None of these military intruders is talking to us. We are in serious trouble."
Although, a Ugandan police spokesman confirmed the siege and said it was done to prevent Bobi Wine from inciting violence but Lt Col Deo Akiiki, Uganda's deputy military spokesperson, gave a different reason for the siege.
He said soldiers were at Wine's house to protect him.

"As presidential candidate, do you want his security to be compromised? It's not a deployment to arrest him. It's a deployment to keep his security like any other presidential candidate has. It's a simple as that."
The invasion occurred as vote counting continued in the 14 January election.
Uganda's long serving leader Yoweri Museveni is facing a big challenge from 38 year-old musician turned politician, Bobi Wine, full name Robert Kyagulanyi Ssentamu.
Wine, who galvanised a mass movement of young people challenging the president's 34-year rule, said at a press conference on Friday morning that Ugandans should reject the results.
"I am very confident that we defeated the dictator by far," he said.
"The people of Uganda voted massively for change of leadership from a dictatorship to a democratic government. But Mr Museveni is trying to paint a picture that he is in the lead."
President Yoweri Museveni Declared Winner As Bobi Wine Alleges Fraud
Meanwhile, Museveni has won a sixth term in office, fighting off a challenge by former singer Wine — who was just a child when he came into power back in 1986. Wine's run drew many young Ugandans to pay attention to politics.
The nation's electoral commission announced on Saturday that Museveni received 58% of the vote to 34% for Wine, according to The Associated Press. But Wine is alleging that the vote was rigged, as election officials face questions over how results were tallied amid an Internet blackout, according to the AP.
Ahead of Thursday's election, Museveni's government shut down social media outlets — including Facebook, Instagram and Twitter— in Uganda. It also sent military vehicles into the streets.
In a phone interview with the BBC World Service, Bobi Wine said he and his wife were not being allowed to leave their home by soldiers.
Wine said security forces were not allowing anyone in or out of his home, and he urged Ugandans to reject the results.
"Nobody is allowed to leave or come into our house. Also, all journalists – local and international – have been blocked from accessing me here at home," he said.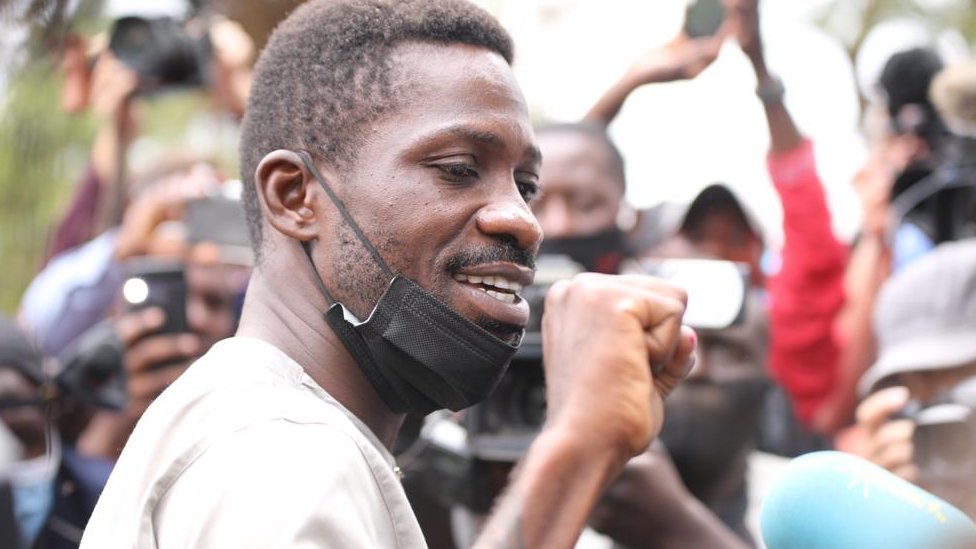 Soldiers and police were out in force in the capital of Kampala on Saturday.
In a series of tweets, the top U.S. diplomat to Africa, Tibor Nagy, called Uganda's electoral process "fundamentally flawed," citing "authorities' denial of accreditation to election observers, violence and harassment of opposition figures" and the arrest of civil service organization workers.
Bobi Wine has rejected the results and says he will present evidence of rigging and voter intimidation. The opposition leader casts a lonely figure – in his home on the outskirts of Kampala.
His key advisers have either been arrested or are in hiding. Nevertheless, he will continue to play a key role in Uganda's politics.
His National Unity Platform is expected to be the biggest opposition party in parliament. What he says and does can inspire millions both in Uganda and across Africa where youthful political movements are taking hold.
Mr Museveni, who came to power on the back of an armed uprising in 1986, stood as leader of the National Resistance Movement (NRM).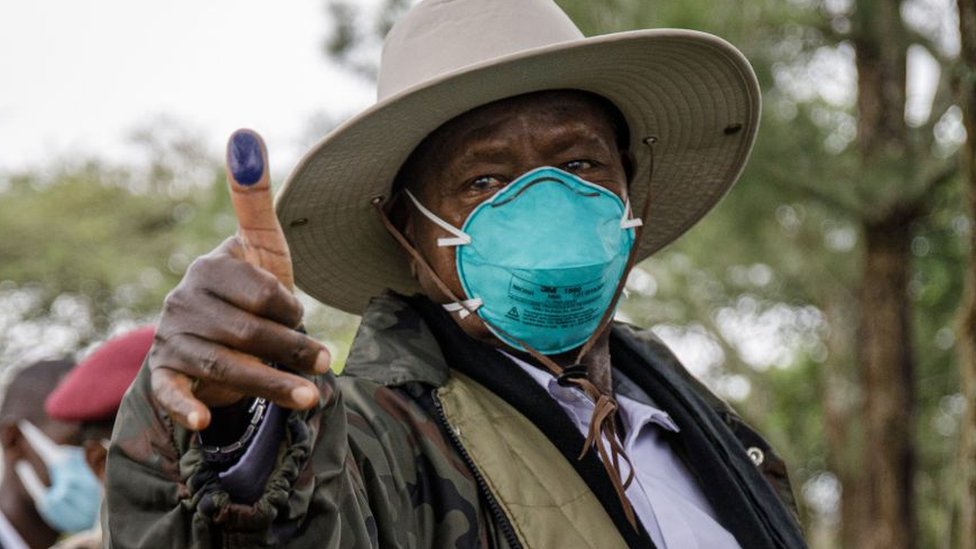 President Yoweri Museveni says he represents stability. He has long been depicted to Ugandans as a liberator and peace bringer.
But he has managed to maintain his grip on power through a mixture of encouraging a personality cult, employing patronage, compromising independent institutions and sidelining opponents, says the BBC's Patience Atuhaire.