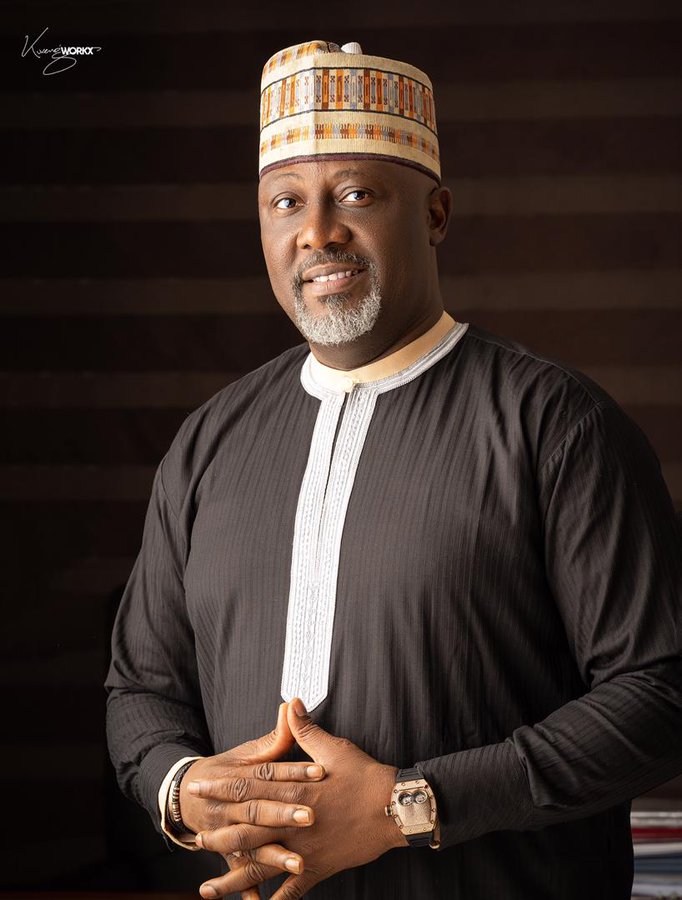 RE – HOW DID YOU ARRIVE AT THE CONCLUSION THAT DINO IS AN IDIOT?
I came across a piece tagged "how did you arrive at the conclusion that Dino is an idiot" by Kehinde Ogunwumiju SAN and I deemed it fit to attend to the write up constructively.
In the first to the third line the writer mention some character of Dino Melaye which is laughable because as a SAN I think he should be able to dichotomise or let me say differentiate between personal life and official assignment/routine.
The writer said the essence of Representation at the National Assembly is that a person from a senatorial district or federal constituency speaks out on your behalf and influences the passage of policies and laws to favour and protect you.
I will want to ask the writer the following few questions which I think and know are very imperative but I will like to compare and contrast between Dino Melaye and Distinguished Senator Smart Adeyemi. I will limit myself to this two for an easy comparisons then before verdicts.
It's very imperative as this will aid us to understand the cons and pros of a good legislator, that of good representation and malrepresentation.
But before the questions I want to state emphatically that there is differences between moving of motions and bills and affecting the lives of your constituents.
How does moving of motions and bills transcends to impacting the lives of your constituents?
Distinguished Senator Smart Adeyemi (CON), and other senator's in the past have moved motions and bills which are evident in Kogi west senatorial district till now.
How many less privileges have Dino Melaye helped.
Distinguished senator smart Adeyemi (CON), have helped many Kogi Westerns that are less privilege.
How many scholarship have Dino Melaye given out to students?
Distinguished Senator Smart Adeyemi (CON) gave out thousands of scholarship in 2014 when ogbeni David Oni was the the Okun students National president which the scholarship cut across Kogi west and thousands of students was a beneficiary which really helped alot of people to offset some debts and pay their tuition fees and others used it for feeding.
How many people have Dino Melaye employed since his inception as the senator?
Distinguished Senator Smart Adeyemi (CON) employed alot of people which they are still enjoying it till now.
How many infrastructural projects was embarked on by Dino Melaye and how feasible are they?
Distinguished Senator Smart Adeyemi (CON) did alot in respect of infrastructural projects and which are feasible till now.
Among them are the buying of Ambulance bus for the whole general hospital in Kogi west which are still on ground till today, buying the traditional rulers a vehicle, helping different communities by donating to them for the actualisation of their projects to mention but few.
We heard that the college of Agriculture Kabba will be Federal College of Agriculture Kabba but till now the name is still college of Agriculture Kabba infact no single work partaining construction going on in the school which the Jubilation was high then thinking it will come to pass but it's only on paper but till now it has not seen the limelight.
What happens to that?
Many senators may not be talking like Dino but their constituents have benefitted a lot from them as senator. I believe the same senator the writer was comparing with Dino Melaye must have done more than Dino Melaye in his constituency.
A good legislator should know how to influence, lobby and draw more dividends to his constituency and not having confrontations with the president and the Governor. The president and the Governor have a pivotal roles to play in this regards.
Now did Dino Melaye even have constituency office where issues bothering the constituents can be relay?
If yes where is it located?
Is the constituency office functioning?
It is not about harnessing popularity while your constituents have nothing to show that you have done.
People saying Dino Melaye is popular should come to Kogi West and see if his Dino's constituency has anything to write home about.
Let the writer come to Kogi West and access Dino Melaye performance and not only by talking in the house. I believe if the writer comes to Kogi West he will prefer his senator to Dino Melaye.
I have many friends from Kwara state who do make mockery of me, they will say how far with your senator that do clean the sit of Bukola Saraki for him and who has turned himself to the Personal assistant to Bukola sarakis wife carrying her bag up and down, I will only answer that I don't have senator at the Red chamber.
Now the writer talk's about how Dino Melaye intervene in the issue of customs, fuel subsidy, Killing of herdsmen and so on. I want to tell the writer that there are many senator's out of the 109 that have similar ideas,a nd I believe when the issue was raised in the house it is not only Dino that observed or take the action to see how it was implemented. It was the efforts of the whole Senator because there is a saying that a tree cannot make a forest and nobody is an island of knowledge. So the applause should go to the whole 8th National Assembly and not only Dino Melaye.
I want to make it clear that Bukola saraki been the Senate president gave Dino Melaye a upper hand or even advantage over other senator's as caucus concerned now that Bukola Saraki is no more the Senate president and now we have another new Senate president let's see what becomes of Dino Melaye at the 9th Assembly.
Anything Dino Melaye has done many people have Done more than that we heard of Obafemi Awolowo that gave Free education; Flora Shaw who named Nigeria, now June 12 is now the New Democracy day; the National stadium has been named after M.K.O Abiola and many more these are nationalist that has contributed immensely to humanity.
Distinguished Senator Smart Adeyemi (CON) have raised many motions and bills, more vibrant, articulate, outstanding, famous, loyal, eloquent, smart, dogged, impactful, humble, and so on.
Distinguished senator smart Adeyemi (CON) have moved for motions and bills that matters and have spoken at the Senate and stand against what is not good and speaks the mind of the masses.
Dino Melaye derived Joy in buying exotic cars and buying mansion in the detriment of his constituents.
What a pity!!!
Who Dino Help?
Since he has no constitency office in Kogi West at least social media will be okay for him. He has fleet of cars up to 1-40 or more, build gigantic house everywhere and he is talking about Justice?
Whoever must fight for justice must come with clean hands.
Did Dino Melaye has conscience?
Can Dino Melaye give us the amount he has collected as constituency allowance and what he has been using them for?
Where are Dino Melaye projects in Kogi West?
His Projects are on paper that of distinguished Senator Smart Adeyemi (CON) are still feasible till now as I speak to you since  that smart left office.
What impacts has Dino created as a Senator?
When Distinguished senator smart Adeyemi (CON) was there all Kogi Westerners felt his impacts in all ramifications both Human, capital and infrastructural Development and many more.
What has Dino Melaye done for Kogi westerners?
I voted for Distinguished senator smart Adeyemi (CON) and not Dino Melaye and I believe many others voted for Distinguished Senator Smart Adeyemi (CON) and not Dino.
What has Dino Melaye done to deserve Re-election?
Distinguished Senator Smart Adeyemi (CON) is reclaiming his stolen mandate soonest.
We say No to Dino Melaye
Enough is Enough Dino Melaye
DSSA ahead!!!.
Thank you very much.
A REJOINDER WRITTEN BY PROF FEMI