The National Youth Service Corps (NYSC) has issued a new certificate to Governor Godwin Obaseki of Edo State following an official request.
The governor partook in the scheme in 1980 but it turned out there was an error on the certificate issued to him with an alphabet missing in his surname which read Obasek instead of Obaseki.
The All Progressives Congress (APC) panel which screened aspirants for the Edo 2020 primary had cited this error as one of the reasons for disqualifying the governor from the race – a decision which made him defect to the Peoples Democratic Party (PDP) where he contested and won the primary.
The document read, "I am directed to inform you that after investigation, the management of the National Youth Service Corps has approved that a new Certificate of National Service reflecting the Surname OBASEKI be produced as the earlier Certificate number 063107 dated 6th August, 1980 has been cancelled due to error in surname i.e OBASEK."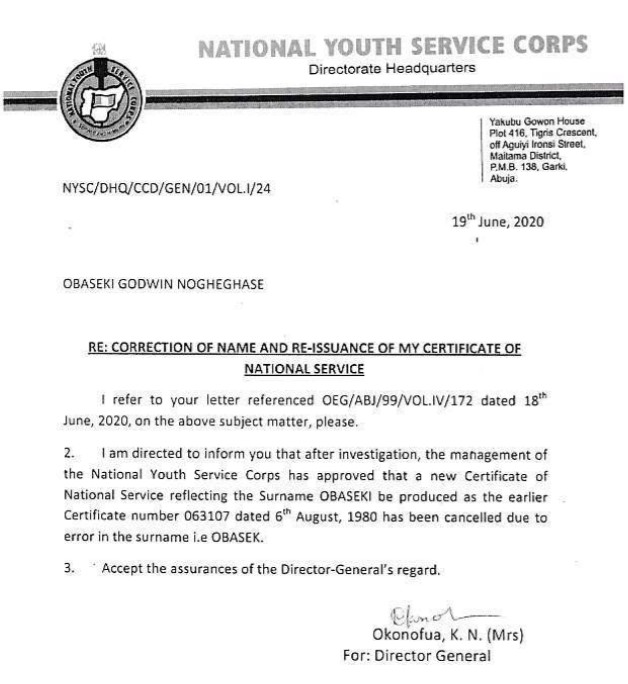 The coast had earlier been cleared for governor Obaseki's win after other aspirants running against him stepped down.
One of those who stepped aside for the governor was Kenneth Imasuagbon, who said he was inspired by Obaseki's performance as the leader of Edo State.
According to him, he has been a "victim of godfatherism" and will help the Edo leader fight anyone who wants to "enslave" the people of the state.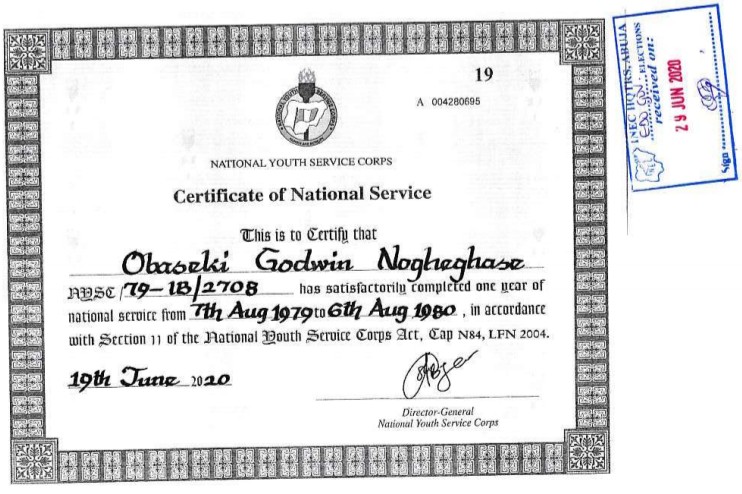 Meanwhile, the National Working Committee of the Peoples Democratic Party (PDP) has appointed the Governor of Rivers State, H. E. Nyesom Wike, as the Chairman for Obaseki's election campaign council.
The party disclosed this in a statement on Friday.
It also noted that the Adamawa State Governor, Rt. Hon. Ahmadu Fintiri, has been appointed as Deputy Chairman of the council.
The election is expected to hold on September 19.
Godwin Obaseki's main opponent is Osagie Ize-Iyamu who won the APC's ticket after his exit.
Obaseki beat Ize-Iyamu in 2016 election when the governor was with the APC, and Ize-Iyamu was with the PDP.
Moreso, a 35-year-old Obhafuoso Paul of the Action Alliance (AA) is the youngest candidate on the ballot for the September contest, while Agol Ebun Tracy of the New Nigeria Peoples Party (NNPP) is the only female candidate.
Other candidates who will also battle for residence in the Edo Government House include –
Akhigbe Benjamin Ehiabi of the African Democratic Congress (ADC)
Ibio Lucky Emmanuel of the Action Democratic Party (ADP)
Lucky Osagie Idehen of the All Progressives Grand Alliance (APGA)
Igbineweka Osamuede of the Allied Peoples Movement (APM), and
Amos Osalumese Areloegbe of the Action Peoples Party (APP).
Also listed are –
Osifo Uhun-Ekpenma Isaiah of the Labour Party (LP)
Stevie Nash Ozono of the Nigeria People's Party (NRS)
Felix Ikezoe Obayangbon of the SDP
Jones Osagiobare of Young Progressive Party (YPP), and
Akhalamhe Amiemenoghena of Zenith Labour Party (ZLP).