After 12years of Barrenness, First seed of Twins get Kidnapped — After 12years of looking for a child, the first seed of a man known as Sheikh Taofeeq Akeugbagold were kidnapped.
The first seed of Sheikh Taofeeq Akeugbagold, that happens to be twins were kidnapped at gun point at his residence at Ojoo in Ibadan, Oyo State.
The cleric's twins were kidnapped on Saturday, 25th April, around 8pm, exactly 10minuites after recording a studio lecture at his Ojoo resdence.
In his words,
WHAT A COUNTRY ! MY TWINS children were kidnapped at gun point at my Ojoo residence Ibadan, around 8pm SATURDAY 10 minutes after I left my home recording lecture in a studio.

Everybody should pls for Allah's sake assist me in prayer and begging the abductor to pls be mercy with me expecially their mother who was barren for 12 years b4.

Am begging not flexing anything.This is their pictures,help share wide. Oh my God! My number 08035066122 only for those who have any assistance to see them not for greeting or flashing. Thanks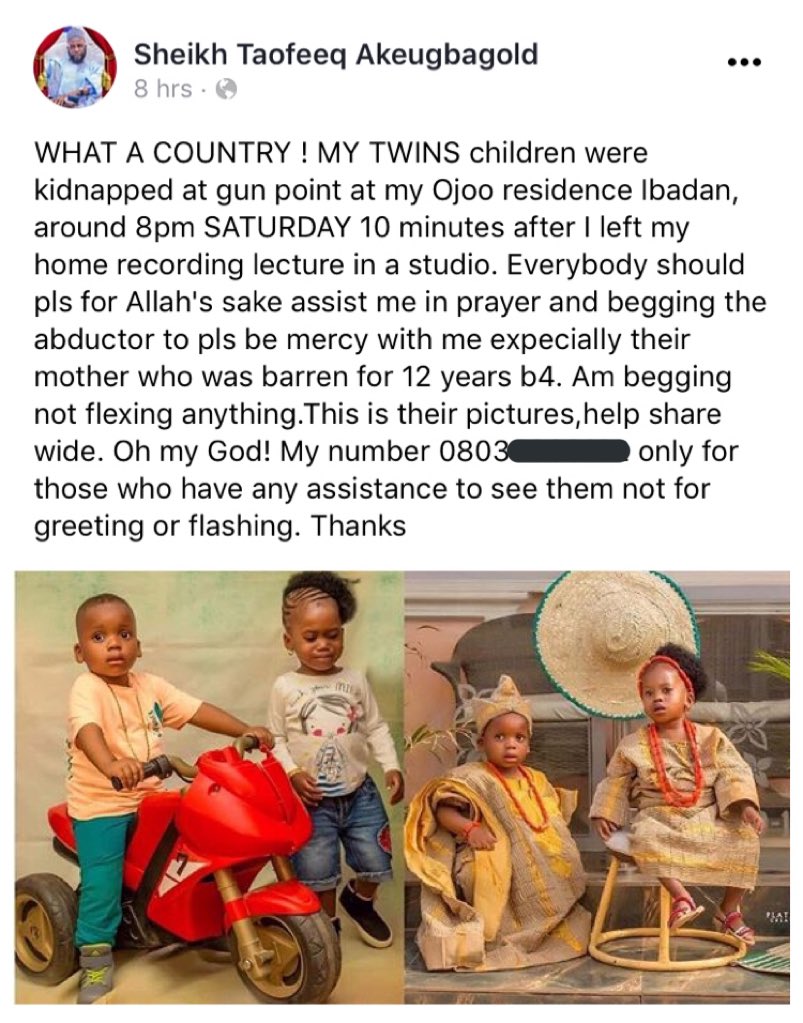 We hope the Nigeria Police Force come through for them.
Comments:
Jesus Christ will throw confusion in there mist to return them back in Jesus name amen
God take away peace from the kidnappers until the children are release safely in Jesus name Amen Amen
God must surely proof him self in this situation, they will bring them back
Oosa ibeji koni fiwan sile lati se ibi pelu won loruko jesu
may almighty God be with them where ever dey are,nd bring them back savely
GOD LET MY HANDS LOCATE THIS TWINS & BRING THEM BACK HOME SAFELY IN JESUS NAME!
God have mercy n bring them back to their parents
May Allah SWT Bring Them Back Home To You Safely
إنه على رجعه لقادر ٣٣ مرة
God take away peace from the kidnappers until the children are release safely in Jesus name Amen Amen