Boys Locker Room: A group of boys decided to open private groups on Instagram, where all they do is plan on how to gang raping girls and women, swapping nudes without the consent of these women.
These boys who have mastered hacking and internet cloning tracks 'everyone's accounts and numbers' whilst looking for victims.
The boys, 15-18years of age are experts in tracking girls, ladies and mothers they find exciting.
These rich South Delhi boys (India)According to reports, are involved in the objectification of their classmates and other women, some as young as 14. The list of members of the group chat has also been released publicly.
They have gone viral on Indian social media because of their graphic sexualisation as well as sharing of private photos of underage women.
The Boys Locker Room was also allegedly used to share nude/morphed photographs of the women.
On Sunday, screenshots from an Instagram group, "Boys Locker Room" were shared by social media users. The screenshots reveal chats between a group of schoolboys from Class 11 and 12 sharing photos of underage women, followed by lurid discussions on their bodies.
The expletive-laden chats show the boys discussing having sex with their classmates as well as rating them on a scale of beauty vs the size of their breasts and how the latter makes up for any supposed deficiency in the former criteria.
"Bad dressing sense but good t**s" reads one such message.
"Bhai jitni bhi ladkiyon ne stories daali hai na sabki nudes leak kar dete hain. Kuch kuch ki hai mere paas…now they'll know yeh sab *expletive* karne ka kya natija hota hai…ab muh band rakhengi yeh *expletive*…bada feminist banna hai na sabko…kahin muh dikhane ke layak nahi rahengi. [Let's post nude photos of all girls who posted stories about us. I have photos of some of them. Now they will know the result of these shenanigans. They will shut their mouth. They want to be feminists na… they will not be able to show their face in public.]"
That is the threat posted in a subsequent chat between the members of the Bois Locker Room (Boys Locker Room) once their deeds went viral.
Once the chats went public, many women friends of the group members also sprung into their support and alleged that the women who had spoken up about the incident had falsely accused their friends.
Social media users have reported that some of the members of the Bois Locker Room group chat have been identified and cases have been filed against them under the IT Act, however, this remains to be verified.
The incident has once again reignited online conversations about toxic masculinity, the prevalence of rape culture and the young age at which it is permeated as well as calls for punishment and accountability for the accused.
One of the boys who was active in this group posted a long public apology. "I am sorry. I have a whole life ahead of me. I don't want some stupid testosterone-fuelled decisions to spoil it," he said. A few users have the justification that they weren't active in the group and didn't say anything.
In the same vein, the Delhi Commission for Women has now taken cognizance of the matter and issued notices to Delhi Police and Instagram. DCW Chief Swati Maliwal tweeted that the incident is "the reflection of a perverse, criminal and rapist mentality".
Delhi Police has been asked to file a report on action taken by it this matter by Friday, 8th May.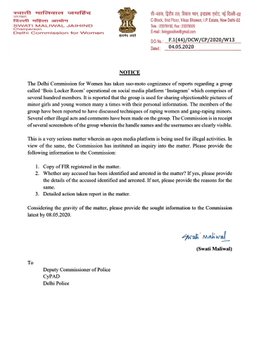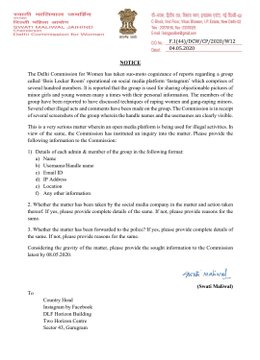 This latest group chat comes months after eight Mumbai students were suspended from a top-ranked IB [International Board] school for the graphic sexual and violent content of their WhatsApp chats regarding their woman classmates.
There are many comments about these boys on social media but a Twitter user, Tanya (@tanyadubeyy) tweets –
It all narrows down to the fact that they feel they can easily fet away with this, and that's why don't think twice before doing such stuff. "Remove your dp, change your username & bio" "Report her stories" "Give her rape threats".

Every single time a girl takes a stand for herself, fear ensues at the back of her mind. "What if he starts following me home?" "What if he throws acid on me?" "What if he morphs my pictures?" "What if he hacks into my account?" "What if he rapes me?" & this is not just about schooling/parenting, it's this simple fact that while girls are always warned about the consequences of them speaking up, boys are always protected by this "Ladke hain galti hojati hai" narrative





Their acts are masked as "mistakes" and not viewed as a violation of someone else's rights & privacy.
In response to this –